Symptom
You're not able to customize the waypoints that were added to your Routes, as the waypoint section does not expand and is not displaying the edit options.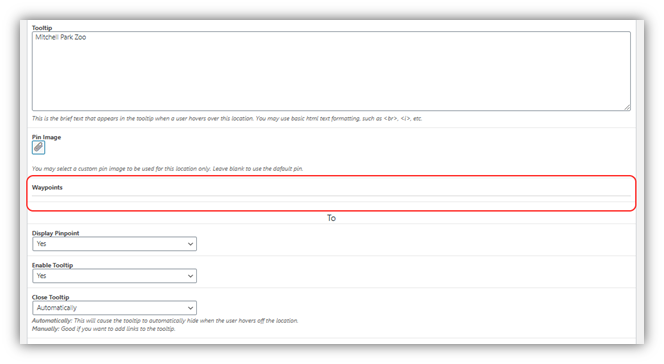 Explanation
This was a reported issue with the old version of PrettyRoutesPro. This was fixed in the release of the latest version of the plugin.
Resolution
Please update to the latest version of PrettyRoutesPro. Please note that it cannot be updated from the Plugins section of your wp-admin and therefore you will need to download the latest version from the MapifyPro my-account page.
Below is the complete guide on how you can perform an update to the plugin: :
1. Download and save the latest version of PrettyRoutes from https://mapifypro.com/my-account/api-downloads
2. Navigate to the Plugin section on your WordPress site. Click 'Add New' menu and choose 'Upload Plugin'
3. To update the plugin, upload the downloaded zip file (which was saved in step 1).
4. Ensure to click 'Activate Plugin'. If you're not able to view this option then navigate to 'Installed Plugin' and choose 'Activate' for PrettyRoutes. Please refer to screenshot below.
5. In the event that the old version still appears (as shown in the below image), you can freely delete the old version of the plugin. Don't worry! You should be able to just delete and install as a new plugin without losing data.

6. Once the update is complete, you should now be able to add waypoints and display waypoints options successfully on your Routes.